Braille Inspection

Braille marking is becoming increasingly important part of pharmaceutical packaging. Regulation requires that all pharmaceutical packages from 30 Oct 2010 be marked with the drug name and dosage in Braille.
Since 2004, Nikka Research is offering a luminescent based Marburg Medium Braille decoding and inspection for screen printed Braille. This dedicated inspection system can inspect multiple rows of Braille marked labels, verify the content and detect Braille dot defects.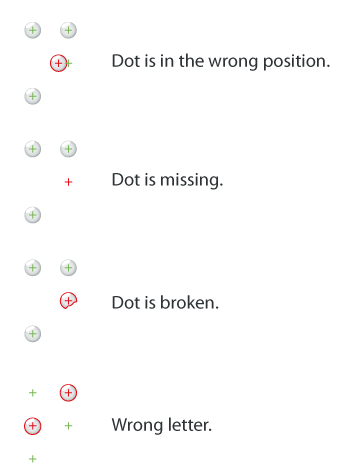 The Braille module for Alis L2 inspection systems is a further development of this technology. The module extends the capabilities of the inspection system with Braille decoding, verification and Braille print quality control. Inspection of Braille runs concurrently with print quality inspection. The module will become available in Q2 of 2010.
Braille printing is also supported by the Alis-Jet group controller. It can control up to eight Atlantic Zeiser BrailleJet ™ print heads positioned scattered across the web in up to three rows and an UV dryer. Equipped with an optional camera, Alis Jet becomes a complete closed loop system – printing, UV curing and inspection in one system. Features include Braille text visualization and positioning on the image of the actual label, and electronic job ticket configuration.
The Braille inspection modules detect the following defects: content mismatch, missing or broken dots, dot position and dot height.