On-Press Inspection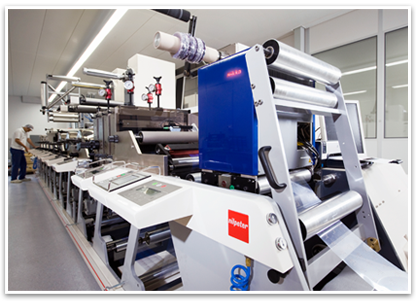 The camera is typically mounted after die-cutting and lifting the matrix or in the automatic rewinder. It is configured to simultaneously scan the complete web width. After adjusting the printing machine, the operator commands the inspection system to store the current state in a reference image and start inspection. The camera system continuously compares the reference image with the print and if significant changes are detected, alerts the operator and shows on screen the defect.
Installing an inspection system on a printing press brings many benefits:
System automatically alerts the operator of print image changes. Detailed indication assists the operator to quickly identify defects and reduces time required to fix the problem.
With PDF reference information, the inspection system will recognize plate mounting and colour inking errors.
Accurate measurement of good meters.
Detecting print problems on the press allows the operator to choose the optimal corrective action. A broken plate in the beginning of a long job is best fixed by a new plate, at the end of job makes sense to print longer and cover the loss. In both cases, a costly reprint is avoided.
Positions and types of print defects are recorded and analyzed in real-time and can be used for controlling the finishing process (see also workflow).
Increased confidence in process stability leads to higher machine speeds.
Documented quality throughout the print run.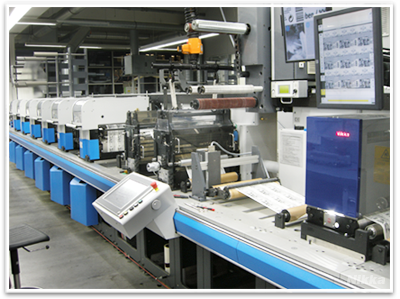 Concurrently with 100% inspection, the inspection system on-press provides a wealth of additional functions to the operator and to production and quality management:
Trend analysis for defect location and type
Optional second monitor for selectively enlarged still image up to nine zones in print repeat – replaces web video systems
Important print parameter monitoring and alert
"Traffic light" style signals with audible alarm
Real time process data collection
The inspection system on the printing press alone cannot stop sporadic defects but it adds significant value to a modern high speed press. It contributes to operation mistake avoidance, waste reduction, improves visualization of the printed product and assists the operator to bring the best of the press.
Supported Platform Machines:
Edelmann
Gallus
Gidue
Mark Andy
Martin Automatic
MPS
Nilpeter
Omet